A new KPMG report highlights the importance of integrating and automating banking services to keep pace with the rapidly-evolving digital customer service landscape. The report aligns with several of the pain points we consistently hear from our customers, within and outside of financial services.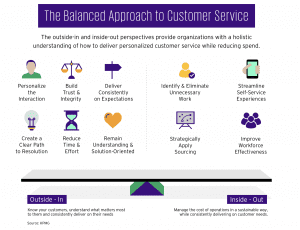 In brief, the three major trends that banks are investing in now in order to gain and retain maturing, tech-savvy customers worldwide include:
Data: Bank servicing used to be transactional and largely driven by customer demand. Now advanced data analytics can evaluate real-time customer behavior, enabling banks to proactively and intelligently present relevant offers at the right time.
AI:

Artificial intelligence

, such as chatbots informed by predictive analytics, is increasingly being leveraged to provide an intuitive, efficient and better customer experience (CX), while human interaction retains a role in more complex tasks and service escalations.

Bundling: Many online banking services are fragmented today, creating a poor customer experience. The solution is intelligent bundling to retain and deepen customer relationships and deliver an exceptional customer experience.

These concerns and trends are not unique to financial services. There is a rush to enhance the integration of online offerings throughout the marketplace to improve the customer experience, loyalty and ultimately the return on investment.
Katabat delivers technological advances that empower you to deliver an exceptional customer experience. Our portfolio of customer lifecycle management, operational workflow, and debt management solutions is an easily deployable, cost-effective way to address the challenges of data management, CX, and integration. If your organization is facing the challenges and opportunities described in the KPMG report, contact our team to learn more about how we can transform your business.
=
Katabat is the leading provider of debt collections software to banks, agencies, and alternative lenders. Founded in 2006 and led by a diverse team of lending executives and leading software engineers, Katabat pioneered digital collections and has led the industry ever since. It is our mission to provide the best credit collections software in the market and solve debt resolution from the perspectives of both lenders and borrowers.
More from Katabat