Avoiding Risky Relationships by Filling in the Gaps
This month the Federal Deposit Insurance Corporation (FDIC) published a financial institutions letter detailing observations and concerns related to technology service provider contracts. In a nutshell, insufficient and unclear contract terms create risks for financial institutions.
More specifically, the FDIC letter highlights concerns related to business continuity and incident response. Insufficient or unclear contracts increase the risk that business disruptions or security incidents caused by service providers will hinder financial system operations or compromise customer information.
Our advice? Don't put your institution at risk through uncertain third-party relationships.
Our suggestions based on the FDIC's guidance are as follows:
Refer to the FFIEC IT Examination Handbook, Business Continuity Booklet, or the FDIC's Guidance for Managing Third-Party Risk for best practices and additional information.
Choose a technology service provider that understands your industry and avoids vulnerabilities with a robust software development lifecycle (SDLC).
Security breach attempts are a reality,. Ensure that your vendors' business continuity and incident response plans are ironclad
The Katabat Promise
Katabat was built by experienced credit lenders and leading technologists. We know what's expected, and we have designed our platform with security and resilience in mind. We know what our clients need because we have been where they are sitting. That is why our program is built on the four pillars of privacy, assurance, business continuity, and information security.
At Katabat data security isn't just our concern, it's our culture. Year after year Katabat has achieved certification in some of the most stringent global security standards. It's how the Katabat platform delivers ironclad protection.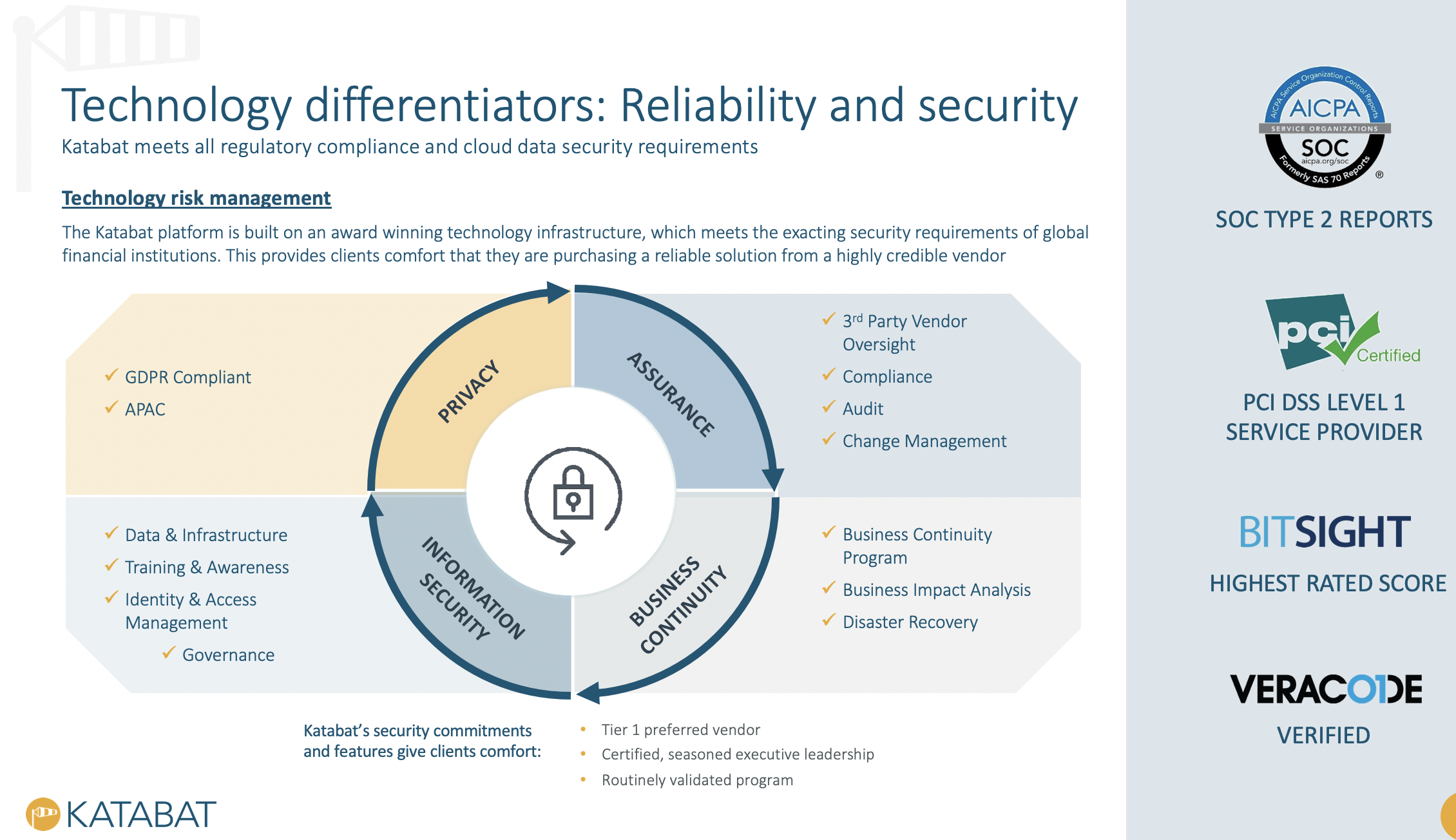 Trusted by major retail banks and smaller institutional banks alike, our debt collection software improves the customer experience across the banking customer lifecycle safely and securely. Our software meets customers where they are with a mobile friendly customer portal and automated digital campaign management, improving recovery rates and increasing your revenues. Easy to use for agents, strategists and IT staff alike, our solution deploys in as little as 6 weeks with software that seamlessly integrates into your existing tech stack.
Interested in learning more about how our debt collection software differs from the rest?
We'd love to talk with you about your business needs. Please get in touch at info@katabat.com In the meantime, read how 4Finance managed explosive growth with Katabat's debt management software and check out our Capterra reviews.
=
Ray Peloso, Chief Customer Officer at Finvi, brings 25 years of diverse consumer lending experience, having held executive leadership roles at Royal Bank of Scotland, Capital One, Citibank, MBNA and Katabat. Ray's prior expertise in consumer credit and lending underpins a clear vision and understanding of the challenges faced by our clients in today's rapidly evolving digital economy.
More from Ray Peloso